Chromecast Integration with Axinom DRM
Chromecast provides screen mirroring and media content casting to HDMI enabled devices (via the dongle) or Android TVs (built-in).
Unlike Miracast, Chromecast requires an internet connection, the devices must be on the same network. While Chromecast support both screencasting and media casting, this article will only discuss the media casting which is relevant for playing DRM protected content through the Chromecast.
There are two application components involved during a media cast.
Sender application - written for Android, iOS, or Cast-supported web platforms (e.g. Chrome desktop browser) which is developed on top of the Google Cast SDK APIs.

Receiver application - handles the communication between the sender app and the Chromecast device. The receiver application will be running on the Chromecast device. In simple terms, it can be thought of as a web app rendered on a Chrome browser outputting the view through HDMI. A receiver application is not limited to just loading media, but it can be a more featured app like catalogue browsing, etc.There are three options to implement the receiver application:

The Default Media Receiver presented with the Google Cast branding and styling. No custom development is needed. DRM protected content will not work other than the Google sample DRM content.

The Styled Media Receiver for which you can develop the styles and branding.

A custom receiver handles custom messages from your sender app to the Chromecast. A custom receiver is required to handle DRM protected content.
Additionally, Android TVs can implement their own Android application based on the Android TV Receiver SDK.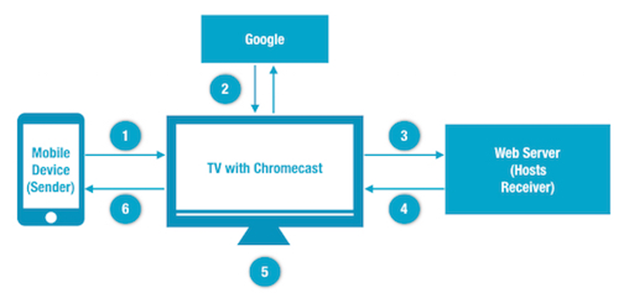 Sender device requests to cast with media data with the receiver application ID to be loaded in the Chromecast.

Chromecast retrieves the receiver app hosted URL.

Chromecast requests the receiver app. (This is a standard HTTP request).

Response from the receiver app hosted web server.

Chromecast loads and renders the receiver app in its built-in Chrome engine.

The receiver app will intercept the sender cast massage and extract the necessary data to load the media (optional, but required for DRM content).

Chromecast responds to the sender device with status and any other control options if available.
| Version | Date | Description |
| --- | --- | --- |
| 1.0 | 28.10.2022 | Initial version |
| 1.1 | 12.06.2023 | Application changes applied |