My Mosaic Introduction
You have a production level agreement with Axinom to use Axinom DRM or Axinom Encoding.
This granted you access to My DRM (respectively My Encoding) area on Axinom Portal, where you had access to your agreements, product configuration details, logs, errors, etc.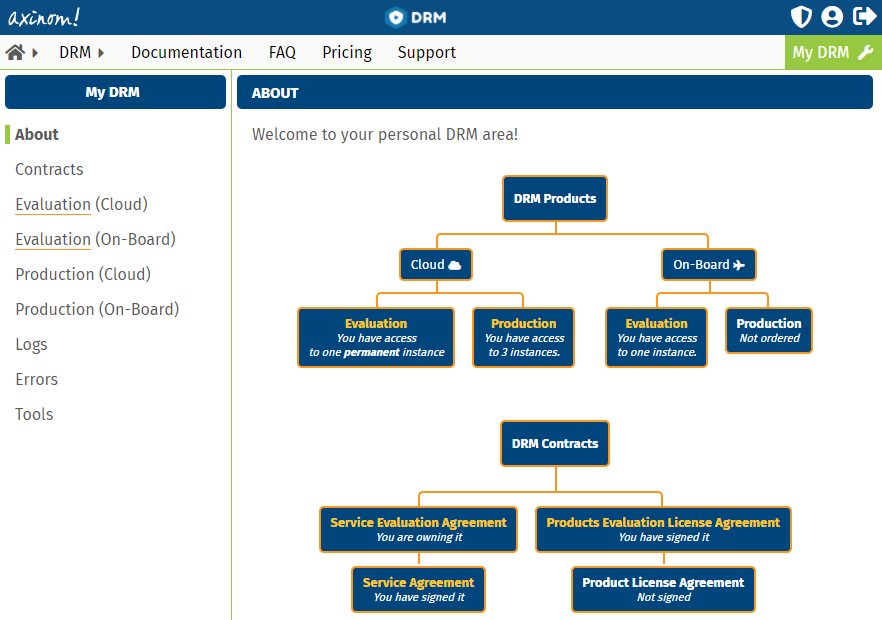 Figure 1. My DRM Overview
Axinom DRM and Axinom Encoding are now parts of Axinom Mosaic - a modular, service-oriented platform that allows you to create powerful and flexible backend solutions. With Axinom Mosaic we've restructured Axinom Portal to make it easier for you to access all Mosaic features and services.
| | |
| --- | --- |
| Note | All your services and integrations remain intact. There is no need to change anything. |
You can now access the new My Mosaic area. You find the link at the top-right corner after you logged in to the Axinom Portal with your known credentials: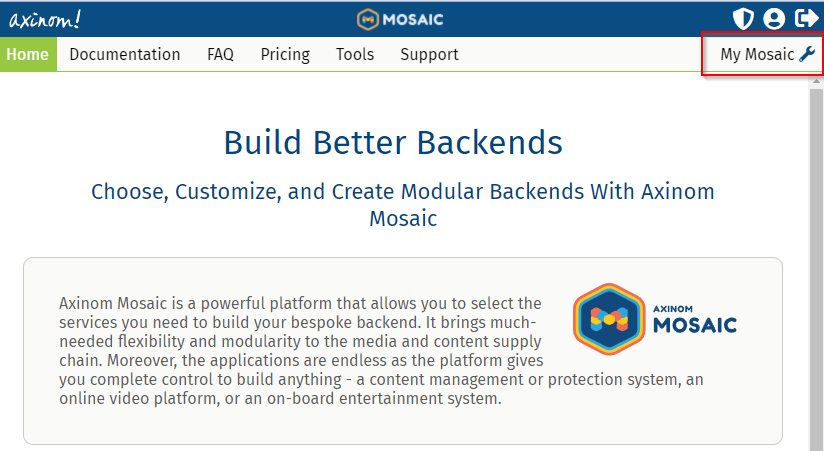 Figure 2. My Mosaic link in the top-right corner
Inside My Mosaic, you will find access to your DRM and Encoding products: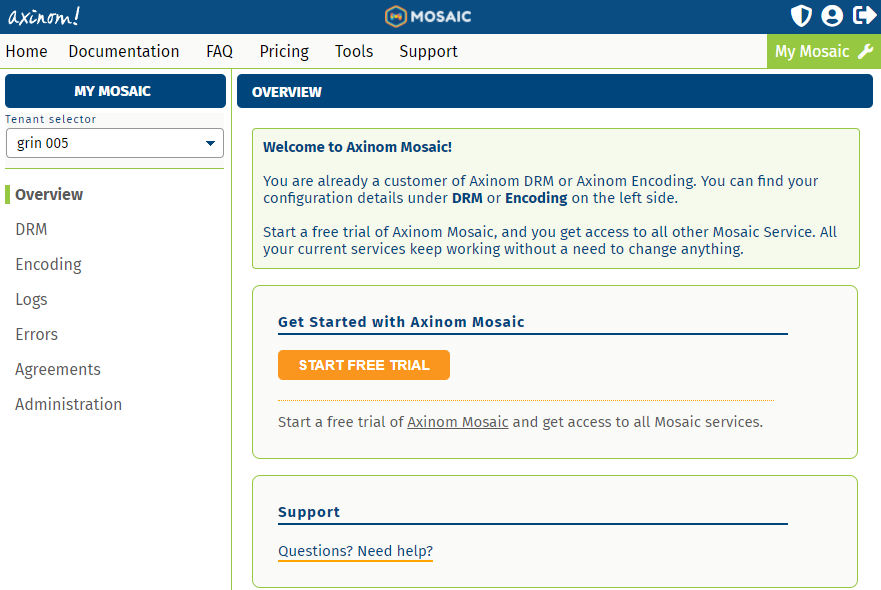 Figure 3. My Mosaic Overview
DRM - configuration details of all your current DRM tenants

Encoding - configuration details of all your current Encoding tenants

Logs - DRM logs (statistics for successful and failed DRM license requests). Encoding logs (encoded input/output minutes).

Errors - error details for the DRM license requests

Agreements - overview of all your current agreements with Axinom. From here you can also see and sign the new Mosaic agreements if you choose to

Administration - list of users in the Portal having access to your tenant.
The Tools you might also remember from My DRM are now available directly from the top menu.
Everything what you know from My DRM and My Encoding is now accessible from My Mosaic.
If you have any issues or questions please don't hesitate to contact our Support.
If you are interested in other Mosaic services, we encourage you to start a free trial for Axinom Mosaic.
The 60-days trial period will allow you to use all Mosaic services and explore how you can transform your media and OTT projects.
Mosaic free trial will grant you access to all services and all My Mosaic features. It will not impact any of your existing products - not technically and not commercially.
You can also upgrade to the new Mosaic Products Licensing Agreement (an Upgrade button under My Mosaic / Agreements). It is risk-free, because you only pay for what you consume.
Axinom provides standard product support for free for all customers and evaluators 24x5 during regular business hours.
For customers with business-critical systems we now offer also Premium Support:
Priority service (tickets from Premium customers are processed in priority)

Guaranteed first response time of 2h

Live calls with screen sharing, when required

Dedicated support engineer

Pro-active guidance about relevant technology-related changes (beyond Axinom products changes)

One hypercare-session (up to 4h) per year included.
If you would like more help from Axinom, for example, for:
analysis of specific application cases

developer training

architecture consulting

development of spike solutions, etc.,
please contact us, we will come back with a proposal.